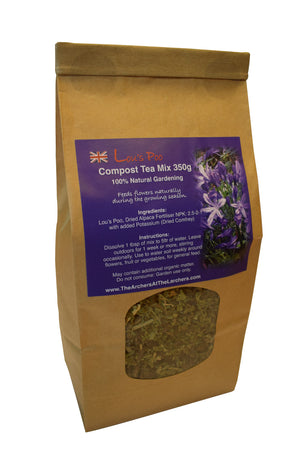 Lou's Poo, Compost Tea Mix 350g (Fertiliser)
Sale price Price £16.00 Regular price
[More stock soon]
Feed your flowers naturally during the growing season by mixing a compost tea of alpaca fertiliser NPK 2.5-2-1 and dried comfrey for added potassium. 
Launched at Chelsea Flower Show 2017, Lou's Poo, Compost Tea Mix comprises our shredded Lou's Poo, Dried Alpaca Fertiliser and added Potassium (Dried Comfrey) 
Either add a tbsp of mix to compost or soil or dissolve 1 tbsp of this sweet smelling mix into 5 ltr of water. Leave outdoors for 1 week or more, stirring occasionally. Use to water soil weekly around flowers, fruit or vegetables, as a general feed. 
May contain additional organic matter. 
Obviously do not consume, this is for garden use only. 
Great garden gift for the gardener who has it all. 
FREE DELIVERY when ordering 2 x 400g bags. Use discount code 'ALPACA FERTILISER FREE SHIPPING' at checkout.