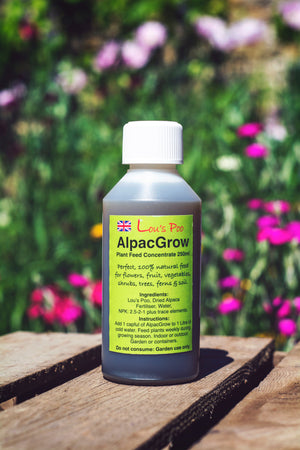 Lou's Poo Plant Feed Concentrate. AlpacGrow
Sale price Price £9.00 Regular price
100% natural, AlpacGrow will feed your indoor and outdoor plants and nourish your soil through the season.
Directions: Add one capful (approx 10ml) to a litre of cold water. The concentrate is rather 'wiffy' but it dissipates quickly in the water.
Ideally we would recommend you water plants thoroughly, giving them a great drink on day 1 and on day 2 give them a feed (as directed above.) This feed will be absorbed by the plant better. 
This product is perfect for flowers, fruit, vegetables, shrubs, trees, ferns and soil. 
OFFER: Order a combination of any 2 of our 250ml Lou's Poo, liquid feeds [Fern Feed, Olive Feed, Dahlia and Canna Feed or our general feed AlpacGrow] and get UK FREE DELIVERY when you add the discount code 2 LIQUID FEEDS to the discount box at checkout. *May not be added retrospectively.