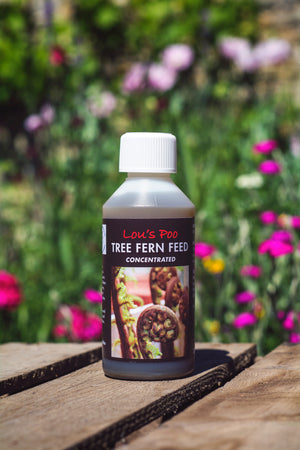 Lou's Poo, Fern Feed (Liquid Concentrate)
Sale price Price £9.00 Regular price
Liquid feed for all ferns, including Dicksonia Antartica. Formulated in conjunction with award winning grower Todd's Botanics (https://www.toddsbotanics.co.uk)
DIRECTIONS: Add one capful (approx 10ml) to a litre of cold water. The concentrate is rather 'wiffy' but it dissipates quickly in the water.
We suggest watering ferns on day 1, allowing them to fully drink, and feeding ferns on day 2. Feed crown of Dicksonia. 
Feed ferns weekly during growing season only, when fronds begin to emerge. Finish feeding generally by end of September.
Ingredients: Water, Lou's Poo Alpaca Fertiliser, (NPK- 2.5-2-1 Plus trace elements.) Comfrey Leaf.
OFFER: Order a combination of any 2 of our 250ml Lou's Poo, liquid feeds [Fern Feed, Olive Feed, Dahlia and Canna Feed or our general feed AlpacGrow] and get UK FREE DELIVERY when you add the discount code 2 LIQUID FEEDS to the discount box at checkout. *May not be added retrospectively.