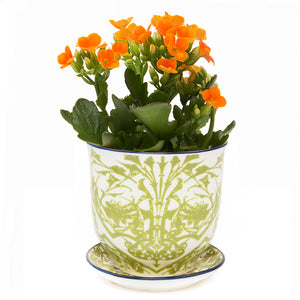 Liberte 2 Pot and Saucer - Green Garden
Sale price Price £12.60 Regular price
Make your plant feel extra special and dress them up in their Liberte finest! 
Features
Detachable saucer and 1/2" drainage hole
Perfect for mini succulents, cactus, fresh herbs
Starter Plant 3" size
Adorable, fun, unique 
Sit lovely in a window sill, home office, excellent gift idea
Pairs well with a mini Parlor Palm, Sunset Velvet Oxalis, mini orchid
The most perfect porcelain pot with essential single drainage hole and saucer, also suitable for for arranging dried flowers and foliage using one of our *floral frogs. 
Product Details
Material: Porcelain
Finish: Glazed
Dimensions: 3.25" wide, 3.5" tall
Cleaning: warm soapy water
Indoor pot and saucer
*A floral Frog is a type of mechanic to support floral arrangements. They negate the use of plastic floral foam or other unsustainable material. These relatively heavy, little metal spiked discs, can sit in a dish or pot of water, to sustain your flowers.