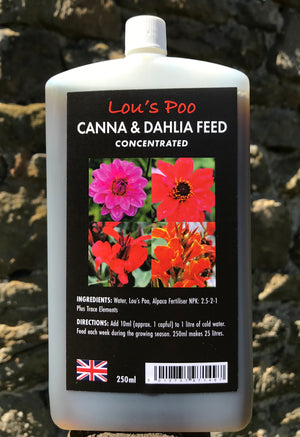 Dahlia and Canna Feed 250ml
Sale price Price £9.00 Regular price
Concentrate liquid plant feed, made for UK award winning Mastergrower nursery Todd's Botanics, to feed their huge stock of Dahlia and Canna. 


Directions: Having thoroughly watered the day before, use 1 or 2 capfuls of our Lou's Poo feed in 1 litre of water and feed to plants. For small plans you may share the litre  between several plants. For larger plants and plants in containers, you may choose to use the entire litre. 
Feed weekly in the growing season. Makes 25 litres
Ingredients: Lou's Poo Dried alpaca Fertiliser and water. 
OFFER: Order a combination of any 2 of our 250ml Lou's Poo, liquid feeds [Fern Feed, Olive Feed, Dahlia and Canna Feed or our general feed AlpacGrow] and get UK FREE DELIVERY when you add the discount code 2 LIQUID FEEDS to the discount box at checkout. *May not be added retrospectively.