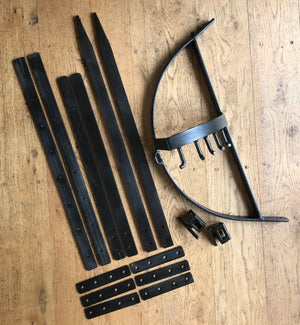 Archer Asado Cross Barbeque
Sale price Price £595.00 Regular price
Designed and made in the UK, our Archer Asado BBQ Cross is a wonderful way to cook large or whole cuts of meat, over an open fire. For a real focus to your social events this year, transform your garden into an Argentinian bbq. No need to travel.
Made from high quality steel, our asado cross assembles simply and can be disassembled for travel or for storage at the end of a season. It neatly fits in a box. 
The Archer Asado Cross has 5 possible cooking positions and the main spine of the cross stands at 178cm at its highest setting. The curve of the base allows a wood fire to gently cook your meat to perfection. 
Weight: 29kg
Requires a standard 17ml spanner to assemble. Assembly instructions enclosed with product, plus suggested cooking times & recipes. 
Training and Support- Please note, if, having purchased your Larches Asado, you'd like one-to-one support to learn how to cook on an asado cross, please let us know. We will always be able to offer over-the-phone support but we may also arrange a training day with you. Email with your requirements and we can cost a package to suit you. Best, Lou.