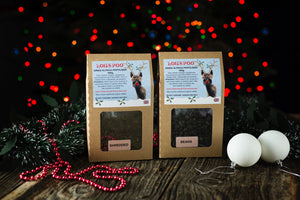 Lou's Poo, Dried Alpaca Fertiliser 400g (Christmas Limited Edition).
Sale price Price £17.00 Regular price
Lou's Christmas Poo, Dried Alpaca Fertiliser 400g. (Limited Edition Christmas Bag) Fun bag of seriously good fertiliser. As sold at Chelsea Flower Show and Hampton Court and used by commercial growers. One bag will feed a garden for months.
Limited Edition Seasonal Line - Available September 2022 - 12 December 2022


Please note, orders for this product must be placed by 16 December 2021 in order to hope they reach their destination before Christmas. We cannot guarantee delivery. 
FREE DELIVERY when ordering 2 x 400g bags. Use discount code 'ALPACA FERTILISER FREE SHIPPING' at checkout. 
400g = approx 20 feeds.
A great natural gardening gift and your gardening friends and relatives will be delighted with the results.  As sold at Chelsea Flower Show, Hampton Court and more and recommended by Gardeners' World Magazine. 
Slow release nitrogen, phosphoros and potassium soil enhancer and feed. Sweet smelling. Lightweight yet powerful. Use a handful for all your indoor or outdoor potted plants or administer direct to soil prior to planting. One bag should serve 20 feeds.
Alpaca 'beans' have plenty to improve soil texture and water holding capacity. Their low organic content means you can spread directly below plants without fear of 'scorch'. It is the decomposition of organic matter which produces the heat that can damage plant roots. 

Sold in a bown robust cardboard box with a window, our packaging can be composted. Our Christmas design is 'Rudolphed' our Alpaca design sporting antlers and a jewel-like red nose! Package may be re-opened and closed again.
This product may contain a little additional organic material as it is hand picked from lush paddocks, then dried, then picked again. This second picking means, as a gardener you won't get the level of grass and weed seeds appearing as you do from ordinary farm manures.
Typically our NPK is 2.5-2-1 but this can vary slightly between season and herd.
All camelids, including alpacas, have an efficient digestive process due to their 3 true stomachs. This means the alpaca beans contain significantly less organic matter and a higher nutrition content than other livestock.  
Store in a dry place.
Alpaca Manure Tea (for plants!) - Brewing Alpaca Fertiliser Tea.
One bag of Lou's Poo Shredded should make at least 20 large watering cans of concentrate feed. Can be used with our Compost Tea-bags


1. Fill a clean five gallon bucket or watering can with cold water.

2. Fill the container with fresh, clean cold water. Place a handful of Lou's Poo, Dried Alpaca Manure into the water, (or fill one of our Tea-bag) The tea brews best in the sun.
3. Steep or soak the mix for Several days. Stir the mix often during this time.

5. You should have alpaca Compost Tea ready to use in at least a day. The tea should be a very light golden brown.

6. Pour this nutrient enriched brew around your thirsty plants. Refill container and let residue or tea-bag brew again. Use until there is no colouration to the water.

Deliver: Products on this website are delivered by courier and will require a signature. Product available for UK only. Sorry rest of the world....... xx
The Archers at The Larches Homes and Garden Products, naturally. Gifts for your homes from our Shropshire smallholding. http://www.thearchersatthelarches.com/